The most commonly used gutter – open top gutters – collect rain running off a roof and channel it, to downspouts that carry the rain water to the ground and away from your siding, windows, doors and foundation. In the course of collecting water, open rain gutters also collect leaves, acorns, pine needles, and other debris, which can cause clogs anywhere in the gutter itself or sometimes in the downspouts. In dry conditions, clogged gutters are a fire hazard; and during heavy rains, clogged gutters and downspouts can cause rainwater to overflow, potentially causing substantial damage to your building, landscaping and basement. They should be regularly cleaned of leaves and debris in order to function properly.
Our hood system for gutters keeps debris, ice and snow out, while reducing or eliminating problems and lengthen the life of your gutters, allowing water to flow freely through the gutter, while preventing debris from falling into the gutter and interrupting the flow. Though it adds to the initial installation, these costs can be mitigated over the years by the safety benefits and/or eliminating costs associated with gutter cleaning and potential damage to your home. These costs can range from $150.00 and up, depending on the size of the house and number of gutters. After several years of paying someone to clean your gutters twice a year, it would have covered the cost of our hooded system, which is guaranteed not to clog.
Regardless of what type of gutter system you choose, open top gutters need maintenance. They should be cleaned at least twice a year: in the spring after trees bud, dropping flowers, acorns and seed pods; and in the fall after they drop their leaves. Depending on weather conditions where you live, an additional cleaning or two may also be necessary in additional to spring and fall.
If you also have a low-sloped roof, even a leaf protection system cannot prevent debris from accumulating on your roof, so with or without a leaf protection system, roof maintenance is required. A simple cleaning with a broom or blower is all that is necessary. Plus, loose debris accumulating on the roof is a fire hazard and is extremely bad for the roof, accelerating wear and backing water up under the shingles.
However, cleaning out your gutters and brushing debris from your roof, though an important task is not an easy one. Climbing and moving ladders and working several feet off the ground can be dangerous. It requires strength and agility to maintain your personal safety, as well as climbing protection systems or devices. If you cannot do this safely, call Superior Seamless Gutters to clean or install our patented hood system.
The Superior Seamless Gutters experienced team has been helping homeowners keep their gutters free of debris and working properly since 2002.
Debris that accumulates in gutters can cause water to back up. A gutter that is full of water can weigh as much as three hundred pounds. That weight can cause the gutter to fatigue and pull away from the house, which may result in such problems as:
* Dry rot to your siding, windows and doors.
* Foundation and landscape erosion.
* Water seeping into your home.
* Mold.
These issues can cost you thousands of dollars in damages. To keep your gutters and downspouts working their best, we recommend cleaning them at least 2 times per year.
Call Us Today For A Free Gutter Cleaning Quote …(413) 281-6156.
Our Seamless Gutter Systems Are Leaf, Debris, Ice & Snow Free!
Our Gutter System Can Be Mounted To The Roof Or To The Fascia, It's Your Choice!
Commercial & Residential Installations
Specializing In Copper 16 oz.
Seamless Aluminum .032 Thickness
Our Hooded System With Lifetime Guarantee
Snow Guards  ~  Heat Tape  ~  Repairs  ~  Clean-Outs
* * * We Use Only The Very Best In Materials * * *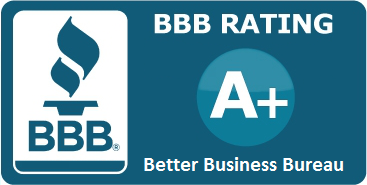 Proudly A+ Accredited Since 2009.
Assuring you a quality, professional installation from start to finish!